How to Straighten Curly Wigs
Wearing a wig is a great way to change your hairstyle. However, sometimes you may find that the wig you purchased does not quite match the style you want. For example, you might have purchased a curly wig, but now want straight hair. Fortunately, you can turn a curly wig into straight hair with just a few simple steps. Dream Lace Wig's hair has received unanimous praise from many customers. In this blog post, we'll walk you through step-by-step steps to straighten a curly wig.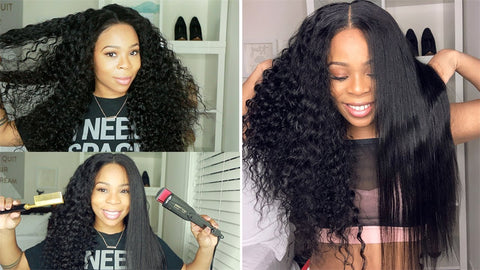 Step 1: Comb the wig
Before you start straightening your curly wig, you need to make sure it's  unraveled. Use a wig brush or a wide-toothed comb to carefully comb the wig to remove any knots or tangles. Comb gently so as not to damage the fibers of the wig.
Step 2: Wash the wig
After the wig is undone, you need to wash it with a good shampoo. After washing, you should use a gentle conditioner to help keep these hairs straight. You can use warm water for this step. Then rinse the wig thoroughly, making sure to remove all shampoo and conditioner. Use a wide-toothed comb to work the product through your hair and work softly to remove any tangles. Remember to always start at the tips and work your way up from there to avoid pulling and tugging, which will damage the hair.
Step 3: Blow dry the wig
After washing, gently pat the wig with a towel to remove excess water. Do not twist or wring the wig as this can cause damage. Instead, lay the wig flat on a towel and let it air dry until about 80 percent dry. It is necessary to apply heat protectors to your human hair strands - if it is damaged or burnt, you will not be able to reverse it. Don't overdo it when using the product, though. Then, blow dry the wig using a blow dryer on a low setting. While blow drying, detangle your hair with a wig brush.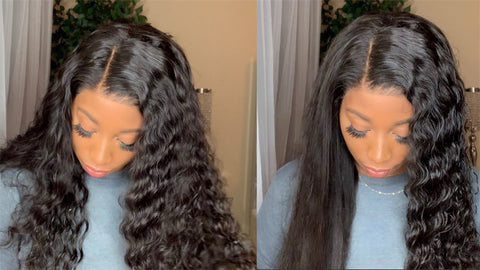 Step 4: Straighten the wig
To straighten your wig, you need a flat iron. Heat the flat iron to the appropriate temperature for the type of wig fiber. Don't make it too hot - a maximum of 350 degrees is perfect! Use a flat iron to straighten a small section of the wig at a time. Be careful not to leave the flat iron on your hair for too long or it could cause damage. After straightening one section, move on to the next until the entire wig is straightened. If your hair is long and thick, you may want to ask a friend to help you comb the back of your head to facilitate and speed up the process.
While smooth hair is beautiful, we do not recommend using flat iron or any heating device on your braids on a daily basis. If you like straight hair and feel you can't cope any other way, it's best to do it straight from the start.
Step 5: Apply finishing products
To complete the look, you can apply some finishing products to the wig. Use a lightweight serum or oil to add shine and prevent frizz. Be careful not to use too much product, as this can make the wig look greasy.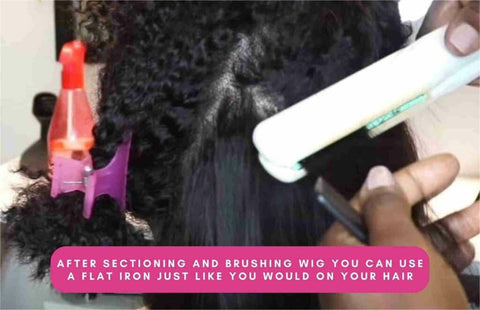 As you can see, attaining a sleek, shiny mane is not as complicated as you may have thought. Still, trying out a new style is an excellent mood booster, and experimenting with your hair once in a while can transform your look. If you want to try this style, we have a selection of human hair wigs for you. Don't wait, come and have a look. In fact, both straight hair and curly lace wigs give a very natural look. If you don't know how to choose? You can go to our Dream Lace Wig website to choose more styles you like.
---