WHAT IS A HEADBAND WIG AND STEPS TO WEAR IT?
WHAT IS A HEADBAND WIG?
Headband wigs have been around for years and are still popular. It is a creative line of elastic black hair bands attached to human hair wigs, no glue, no gel, and looks very natural, which is very helpful for people with hair loss. On the back of the headband wig, there is an adjustable suspenders, multiple slip bands, and an adjustable headband sewn inside; Or there are three combs, one on the right, one on the left, and one in the back, so you can hold the headband wig in place nicely. You can also use the original black headband to decorate the bandana in another color or pattern according to your preference. If worn correctly, it can look very sexy.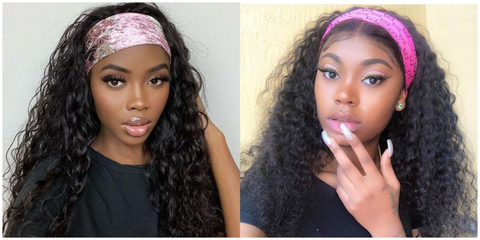 HOW TO WEAR HEADBAND WIG?
Comb the headband wig
First, you need to comb your wig. Brush off any tangles and knots with a comb. If your headband wig is curly, you can use a wide-toothed comb to give it a new look. If you want to keep your wig stable, use a wig stand. Gently brush your hair from top to bottom until it is smooth.
Arrange your natural hair and braid it back in a row
Before putting on a hairpiece, smooth your natural hair and tie it in a ponytail. The wig will display your natural hair along the front of your head, which means you will braiding the front of your hair horizontally along your forehead, using the edge of the flat comb to continue dividing the rest of your hair into 1-inch sections. Weave each of these sections backwards until they reach your lower hairline along the neck. The hairline or bangs will naturally blend in with the headband wig, so be sure to push it in front of the ears or you might get caught in the wig later. You can brush out some baby hair with a small brush to give it a more natural look.

Put on the wig and tighten it with Velcro
Place the wig directly on top of the head, then curl the hair to the front, adjust the tightness of the headband, and attach the Velcro to the back. Also make sure the bottom comb is connected. Adjust the Velcro on the inside of the wig to match your head size, and you should use a wig brush to hold the wig a few inches from your hairline to match natural hair.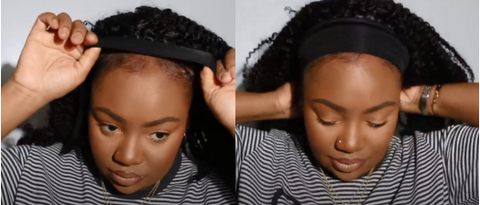 Place your favorite headband and design your wig
After the wig is installed, you can choose the headband you like, either a colorful headband or a wide headband. You can also shape it according to your preferences. For example, heating, dyeing. If it's straight, you can also make it curl and vice versa.
---